It's the last day of winter – HOORAY!!!
To celebrate, let us enjoy #foodpornfriday.
SAVOURY
Ratatouille-Inspired Summer Veggie Dish
A delicious mix of colourful, nutritious vegies, ratatouille can be either a summer or winter dish. And I LOVE the movie…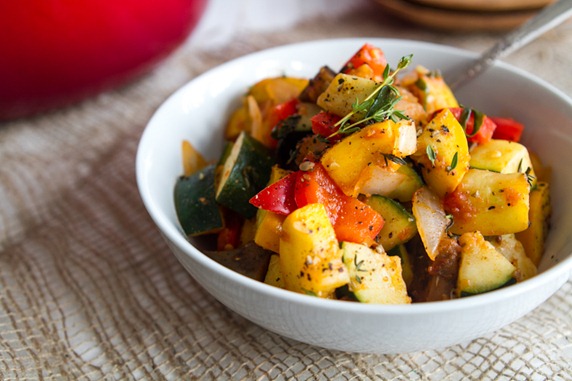 Photo: Oh She Glows
Ingredients
1 tbsp extra virgin olive oil
2 large cloves garlic, peeled & minced
2 cups chopped sweet onion
1 large zucchini, chopped into 1" chunks (~2 cups chopped)
1 large yellow zucchini, chopped into 1" chunks (~2 cups chopped)
1 Italian Eggplant, peeled & chopped into 1" chunks (~1-1.5 cups)
3/4-1 cup marinara sauce (or use chopped tomato)
1-2 tbsp fresh thyme leaves, to taste
1/4 cup packed fresh basil, finely chopped
Herbamare + salt & pepper, to taste
Method
In a large cast-iron pot or skillet, heat the oil, garlic, and onion over medium heat for about 5 mins, stirring frequently and reducing heat if necessary.
Add the chopped zucchini, eggplant, and red pepper, as they are ready to go in. Season with salt and pepper and cook over medium heat for about 10 minutes. I like giving the veggies a sprinkle of Herbamare to bring out the flavours.
Stir in about 3/4-1 cup of your favourite marinara sauce (I used The Linen Collection Marinara from Costco!) along with fresh herbs. Cook until vegetables are tender, but still a bit firm and not overcooked – about 5-7 more minutes.
Serve with a crunchy baguette, rice, potatoes, couscous, quinoa, or simply as a side.
SWEET
Vegan Chocolate Cupcakes with Vegan Banana Ice Cream
I don't think I would ever make these as I don't have enough patience to wait for it to cool, or artistic merit. But I would have no problem one (or 4!) down!
Photo: Joylicious
Banana Ice Cream
Ingredients
3 very ripe bananas, frozen
1 tablespoon soymilk (optional)
Method
Using a blender or hand-held immersion blender, blend the bananas into a smooth paste.

If it feels a little thick, feel free to add the soymilk.
Place in a medium glass container and freeze for 30 minutes or more before using.
Vegan Chocolate Cupcakes
Ingredients
1/3 cup unsweetened cocoa powder
1 teaspoon distilled vinegar
1 ½ cups all-natural peanut butter, room temperature
Cocoa nibs and cocoa powder for garnish
Method
Mix peanut butter and honey together in a bowl until combined.

Set aside until ready to use.
In a large bowl mix the flour, sugar, cocoa powder, baking soda and salt together until well incorporated.
Add water, coffee, oil and vinegar into dry mixture, mix until fully blended.
Fill muffin pan with liners and fill with batter ¾ the way full.
Bake in oven for 22-25 minutes, or until a toothpick comes out clean.
Place on rack to cool.

Using a paring knife or tiny circular pastry cutter (1"-1.25") cut out a hole in the center of each cupcake for the peanut butter filling.
Take banana ice cream out and set aside.

Fill each cupcake with peanut butter mixture up to the top and scoop banana ice cream on top.
Garnish with cocoa nibs and cocoa powder.

Serve immediately.