Wow, the silly season is not far off now. And that's scary. For those in Melbourne, you know it's the start of the silly season when we ramp up for the grand final! After that is the Spring Racing Carnival, then Christmas, New Years, Easter…… woah, I gotta lie down and enjoy some food porn.
SAVOURY
Tomato Walnut Basil Pasta
Being Italian, I go weak at the knees for spaghetti. When I was there (many, many years ago) I would have spaghetti at least once per day, and more often, twice! And I still can't get enough of it. But I'm a little more restrained now with how often I have it - unless I go to Italy, then it's going to be a bang-up pasta fest!!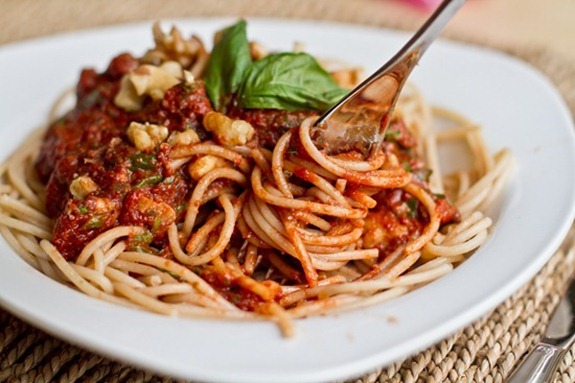 Photo: Oh She Glows
Ingredients
One 28oz can crushed tomatoe
2 tbsp. extra virgin olive oil
1/2 cup packed fresh basil leaves, stems removed &chopped finely
1 tsp kosher salt, or to taste
Freshly ground black pepper, to taste
1/2 cup

nutritional yeast
2 large handfuls spinach, roughly chopped
1/2-3/4 cup walnuts, roughly chopped
Chop onion and garlic. In a large skillet, heat 2 tbsp. of olive oil. Add in the onion and cook over low-medium heat for about 5 minutes. Add in the minced garlic and cook on low for another 4-5 minutes until the onion is translucent.
Add in the oregano, salt, and black pepper. Stir well. Cook on low for a few minutes. Now add in the 28oz of crushed tomatoes, chopped basil, and

nutritional yeast

. Stir. Bring to a low boil and then simmer on low for about 5 minutes. Meanwhile, cook your pasta.
Stir in the chopped walnuts and the chopped spinach. Cook for about 10 minutes longer on med-low. Serve over pasta and garnish with basil leaves and additional walnuts. Makes about 3.5 cups sauce.
SWEET
Quinoa Salad with Blueberries, Strawberries and Watermelon
Quinoa is delicious. As are berries. I'm not a fan of watermelon; it's a bit dull and tasteless. But I cannot wait til the weather warms up a little (and the fresh fruit becomes available!) to make this tasty looking salad.
Photo: Gluten Free Goddess
Pinch of sea salt, to taste
1.5 cups fresh blueberries, washed, picked over
1.5 cups fresh strawberries, washed, sliced
1.5 cups diced watermelon
A handful of fresh chopped herbs: cilantro, dill, parsley and mint
1/2 cup extra virgin olive oil
Fresh squeezed lime juice from 1-2 limes
Place the quinoa, water, and sea salt in a large to medium rice cooker, and cover. Cook until all the water is evaporated and the quinoa is tender. Scoop the cooked quinoa into a large bowl and fluff with a fork. Let it cool to room temperature.
Meanwhile, prepare the fruit and baby greens.
When the quinoa has cooled, drizzle it with the extra virgin olive oil and toss well to coat, fluffing with a fork to separate the grains. Add the fresh squeezed lime juice and toss again. Season with cracked pepper, to taste. Taste test. Add more olive oil or lime as needed.
Add the blueberries to the quinoa, and toss lightly.
Distribute the baby greens on six plates. Add the quinoa and blueberries. Add the sliced strawberries and diced watermelon, and the fresh chopped herbs.