I found out some devastating news last night.
My hairdresser is pregnant…
Who is going to cut my hair now?!! It took me years and years of terrible hairdressers and shocking haircuts to find Rebecca… I'm convinced it's because of her cut/styling that I was pulled out of the audience for 'Hey Hey it's Saturday'… (Hahaha, long story!)
I got my hair cut last night (looooooong overdue) and Rebecca mentioned how different and healthier my hair seemed. I told her about my change in diet (and I have also started using Desert Essence coconut shampoo/conditioner in the last 6 weeks) and she was impressed!!
I mean, I'm happy for her being knocked up by her hubby and all that, but…
I need some food porn now to cheer me up.
SAVOURY
Roasted tomato tortilla pizza with basil cashew cheeze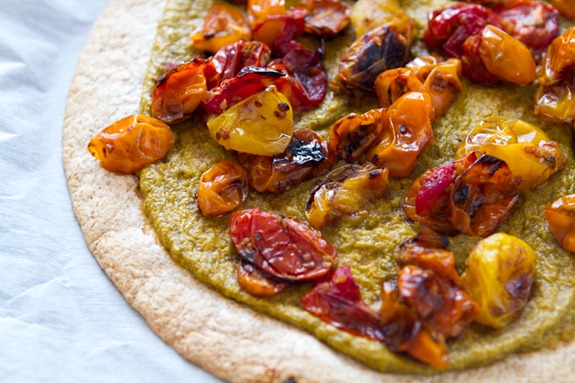 Photo: Oh She Glows
Ingredients
Roasted tomatoes
0.90 kg/2 lb. tomatoes (I used mixed cherry tomatoes)
1/2 tbsp. extra virgin olive oil
1/2 tbsp. balsamic vinegar
Fine grain sea salt & pepper
For the basil cashew cheeze
1 cup loosely packed fresh basil
1 cup raw cashews, soaked in water for at least 1 hour
2 tbsp. fresh lemon juice
3 tbsp. extra virgin olive oil
1 tbsp. nutritional yeast
1/4 tsp fine grain sea salt, or to taste
Crust
Place 1 cup raw cashews in a bowl of water and soak for at least 1 hour. Rinse and drain before use.
Preheat the oven to 375F and line a baking sheet with parchment paper. Chop tomatoes and place in a bowl and mix with olive oil, vinegar, and season with salt and pepper. Spread out on prepared pan and roast for about 30 minutes or so. Remove and reduce heat to 350F.
In a food processor drop in garlic cloves and mince.
Now drop in the basil followed by the roasted tomatoes and drained and rinsed cashews. Stop to scrape down the side of the bowl.
Now add in the rest of the ingredients and blend until super smooth. Season with fine grain sea salt to taste. Add more oil or lemon juice if preferred.
Place your desired amount of tortillas on baking sheet. Spread sauce on each tortilla followed by a generous amount of roasted tomatoes.
Bake in the oven for 13-15 minutes (watch closely) at 350F or until crisp and golden. Serve immediately. Store leftover sauce in an air-tight container in the fridge. It should keep for a week or longer.
SWEET
Pumpkin chocolate-chip pizookie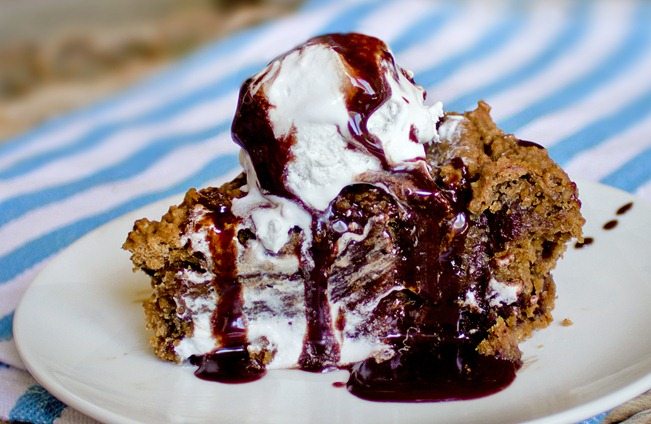 Photo: Chocolate Covered Katie
Ingredients
2 cans white beans or garbanzos (drained and rinsed) (500g total, once drained)
1/4 cup pureed pumpkin (or butternut squash or sweet potato)
2 tsp pure vanilla extract
3 tbsp. vegetable oil or coconut oil
1 1/2 cups brown sugar or coconut sugar
Blend everything (except the chips) very well in a food processor (NOT a blender). Blend until it's super smooth.
Mix in chips, and pour into a pan. (I used a 10-inch spring form pan, but you can use a smaller pan if you want a really deep-dish pie.)
Cook at 350F for 35 minutes. Let stand at least 10 minutes before removing from the pan.