HOW IS IT AUGUST ALREADY???
Seriously!? Wasn't it just Christmas?? Speaking of which, I was at the gym the other night, and an ad came on encouraging viewers to book their Christmas party. What. The. Eff.
On the upside, that means we are closer to warmer weather and that means leaving this miserable winter behind. Hooray!
Here is today's selection for #FoodPornFriday
SAVOURY
I'm convinced that chickpeas make the world go around. I love them. I'll add them to a soup, curry, stew, anything to make use of their delicious versatility. So when I came across this recipe, I nearly drowned in my own drooling saliva puddle.
Chickpea Curry
Ingredients
1.5 cm cube of ginger (peeled)
2 cloves of garlic (chopped)
1/2 large red chili (roughly chopped)
3 tomatoes from a tin (chopped)
1/2 tsp. brown sugar (optional)
3 tbsp. coriander leaves (chopped)
Method
1. Peel the onions, cut in half and then slice.
2. Heat a small pan and dry roast the coriander seeds.
3. Roughly crush in a mortar and pestle.
4. Repeat steps 2 and 3 for the cumin seeds taking care not to burn them.
5. Heat a large heavy bottomed pan on a medium - high setting and add the oil.
6. When the oil is hot add all the spices and allow to sizzle for 1 min.
7. Add the onions and fry for 1 -2 mins while stirring occasionally so they don't stick.
8. Turn down the heat to low and continue to cook for 10 -15 mins. Sprinkle on the sugar if desired.
9. Thinly slice the ginger and then cut the slices into quarters. .Then add to the onions with the chili and garlic. Cook for a further 2 mins then turn the heat up to medium-high again.
10. Add the chickpeas and cook for 5 mins before adding the chopped tomatoes.
11. Add a splash or two of water to loosen off the mix. It should not be too dry.
12. Turn down the heat a bit and simmer for 10 mins. You can mash a bit of the chickpeas up with a spoon as the mushed chickpeas give a creamy texture to the curry.
13. Add the lemon juice and chopped coriander. Simmer for 1 min.
14. Serve it up with naan bread.
SWEET
Chocolate also makes the world go around. As do berries. So this cake looks like a winner to me. The recipe itself isn't vegan, but can be easily veganised. Even though we only have one kind of vegan-friendly soy yoghurt available in Australia (yep, one measly disgusting gag-inducing option), you could probably use Tofutti or similar in place of the yoghurt. I'll make it sometime soon and give you an update!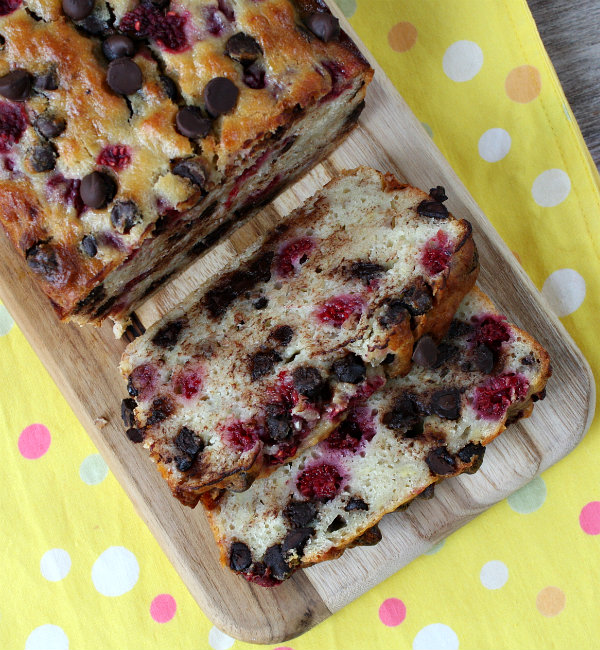 Raspberry- Dark Chocolate Banana Bread
Ingredients
2 cups all-purpose flour
3/4 teaspoon baking soda

1/2 teaspoon salt

1 cup granulated white sugar

4 tablespoons (1/2 stick) unsalted butter, at room temperature

2 large eggs

1 1/2 cups mashed ripe banana (about 3 bananas)
1/3 cup plain low fat yogurt

1 teaspoon vanilla extract
1 cup dark chocolate chunks or chips
1 cup halved raspberries, tossed in 1 tablespoon all-purpose flour
Method
1. Preheat oven to 350°F. Spray a 9x5-inch loaf pan with cooking spray.
2. In a medium bowl, whisk together the flour, baking soda and salt.
3. In a separate large bowl, beat the sugar and butter with an electric mixer at medium speed until well blended (about 1 minute). Add the eggs one at a time, beating well after each addition. Add the banana, yogurt, and vanilla; beat until blended. Stir in the flour mixture; just until moist. Don't over-mix. Stir in the chocolate chunks and then gently stir in the raspberries. If you want, you can sprinkle a few additional chocolate chunks and raspberries on the top to make it look pretty.
4. Spoon the batter into the prepared pan. Bake for 50 to 60 minutes or until a wooden pick inserted in centre comes out clean. Cool 15 minutes in the pan on a wire rack. Remove from pan and cool completely on the wire rack.
On a final note, unless you've been hiding under a rock, you'll all be aware that the Olympics are on. It's not really my thing, but I'm proud of our athletes and all that they've achieved – simply by qualifying to be there. Not that the media agrees, as the medal count isn't what was hoped for. But these athletes have sacrificed so much to be there – and no matter what or where Australia sits on the medal tally, they have done great things.
PS – I totally blame the Commonwealth Bank for James Magnussen 'bombing out' of his events – they totally jinxed him!!